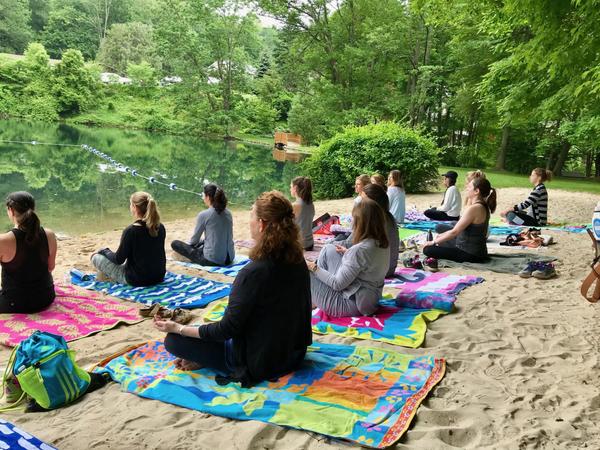 Meet, Mingle and Meditate: A Women's Retreat
No one needs to tell you its been a hellava year so far...as a matter of fact the past few haven't been great!
I am happy to announce the lake meditation series is back and better than ever- with some improvements, changes and additions.
If you are in the Westchester area (or can travel here),
and want to spend an hour (or more) in a gorgeous spot on a beach by a lake,
socializing, reconnecting and relaxing... with other like-minded women...
come join us... by yourself or grab a friend!
It's going to be a lot of fun and will refill your soul, while learning some stress management techniques.
** For those wondering, it is not a full hour of meditation. We chat, learn and relax- its fun! And very welcoming. NO experience necessary- most of us do not know how to relax anyway.
AND some added YOGA with Liza Peterson.
Another addition this year is a FUNDAMENTALS of MEDITATION CLASS- For beginners, never-meditators or anyone wanting to review the fundamentals of meditation. This session is given on a Sunday, so everyone can attend regardless of work schedules.
Sessions will be held:
Sunday's and Monday's from 11:00-12:00, and will start in MAY!
3 sessions on Sundays and 5 on Mondays for a total of 8.
You can purchase individual sessions or a package for a discounted rate.
Bring a chair and/or a towel.
When you sign up you will get more information including the address and where to park.
May:
Sunday, May 15th- Fundamentals of Meditation
Monday, May 23rd
June:
Sunday, June 5th
Monday, June 13th
July:
Monday, July 11th
Sunday, July 17th
August:
Monday, August 1st - with Yoga
Monday, August 8th- with Yoga
Don't wait to sign up, sessions will fill up quickly and have limited space this year.
No refunds. Dates are subject to change due to rain and scheduling conflicts- so be sure to read your emails.